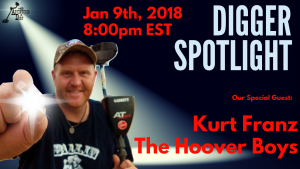 Digger Spotlight is a bi-monthly live stream show featuring various notable diggers from our metal detecting community.
Twice a month I will invite guests to come in for an hour to talk about metal detecting, YouTube, and other interesting topics depending on the guest.  Part interview, part conversation…. it all fun.  Both myself as host and our featured guests will interact with the live chat room where viewers can interact with the conversation, interact with each other, ask questions of the guests and get answers from them directly.  Its another way of connecting with those YouTube personalities you have to come to love and admire.
Be sure to come for the chat, stay for the conversation, get in on the giveaways, and enjoy yourself as you tune in to another Digger Spotlight.
Click this link for our show with Kurt Franz of The Hoover Boys…