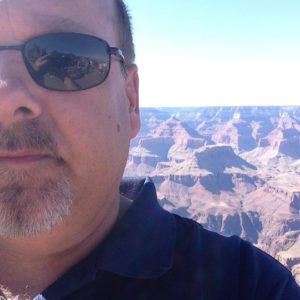 Hello and welcome to Adventures In Dirt.  I'm "DK" and I go metal detecting …
Adventures In Dirt is my attempt to chronicle the experiences I am having while enjoying the hobby of metal detecting.  I am a father of 6, most of whom are on their own paths now and my role as father has shifted a bit from coach to sideline fan and sometimes counselor.  Have a look around and drop me a line if you have any questions.
I can remember back as always having an interest in metal detecting.  Fleeting glimpses of guys out on the beach swinging their detectors around when I lived in California as a youngster fill my memory.  How did they work, I wondered?  What were they finding?  How much they cost?  Why did it seem that only old men were detecting?  Then I became less young and my interests were taken up elsewhere until a number of years ago.
My job is pretty stressful and I have always had hobbies to help relieve the stress.  Seems like something new is always grabbing my attention.  Guitar, martial arts, voice-over, screenwriting, genealogy, making wine, making cheese, and even tried my hand in creating dubstep music just to show my kids I could.  All have had their grips on me at one time or another and most are still around waiting for their chance to sneak back in to my time away from work.  A little while back I added gold prospecting to the list.  Very recreational of course, just local streams, creeks, and rivers and only using a sluice and pans.  It was an activity that I shared with one of my sons and we enjoyed going out together looking for those colors in the pan.  We're not done with it for sure but it lead me into thinking again about metal detecting and I recalled all my interest I had about it as a kid.  My wife, in hearing me talking about it more and more, went out and bought me a metal detector for Christmas.  I was delighted.   Then I was hooked.
In early 2017, I decided to start up a YouTube channel to showcase some of my finds for family and friends.  I quickly found a large community of other YouTube creators that also showcase their metal detecting addiction with their own channels and I have become a fan of many of them.  It wasn't long until I had a Facebook Page, Twitter account, and was posting pics on Instagram.  Who would have thought that I would be involved in social media?  Its a lot of work and for those who do it well, my hat is off to you.  I started this website to mainly secure the domain name which will allow me to have more control over email addresses and also blog some of my thoughts on this hobby I love.
Research into my own genealogy got me hooked on history.  I love history.  I also love being outdoors and exploring so there you go, it all adds up.  Metal detecting has allowed me to discover and educate myself in the rich history of the areas I go to hunt in.  The research that goes into finding out what was where and when has opened my eyes up like never before.  I cant pass an empty lot or farm anymore without thinking…"what was there?".  The finds are awesome but my favorite finds are items that I have no idea what they are or where they came from, then go do the research into finding out.  To me that is the biggest reward.  Wondering why that item I just found was there, how did it get there?  It's simply amazing.
Many people have asked about tee shirts and hats and I have found a company called Galloree that will print my logos on many different items of your choice.  Head over to the merch/shop link listed above and take a look.  You start by clicking on one of the logos you see there, then select items you want the logo printed on or click on one of the pre-selected products.  Galloree will take care of the rest and fulfill the order.  The shopping cart is linked to their secured server for secure transactions.
Enjoy ~ DK